A clean design, 4 new dimensions!
The new LIFT electric foil offers a new, more refined design, and a manufacture with a latest generation carbon, for ever more lightness, maneuverability and resistance.
Version 3 of the eFoils Lift offers smaller boards than the previous generation, for more comfort in flight while being even easier to handle than the older generations.
The maximum speed record with an hydrofoil  is 55 km / h ( 35 mph ) , with the last LIFT pro 4'2 electric foil, released in March 2021.
Find your own size!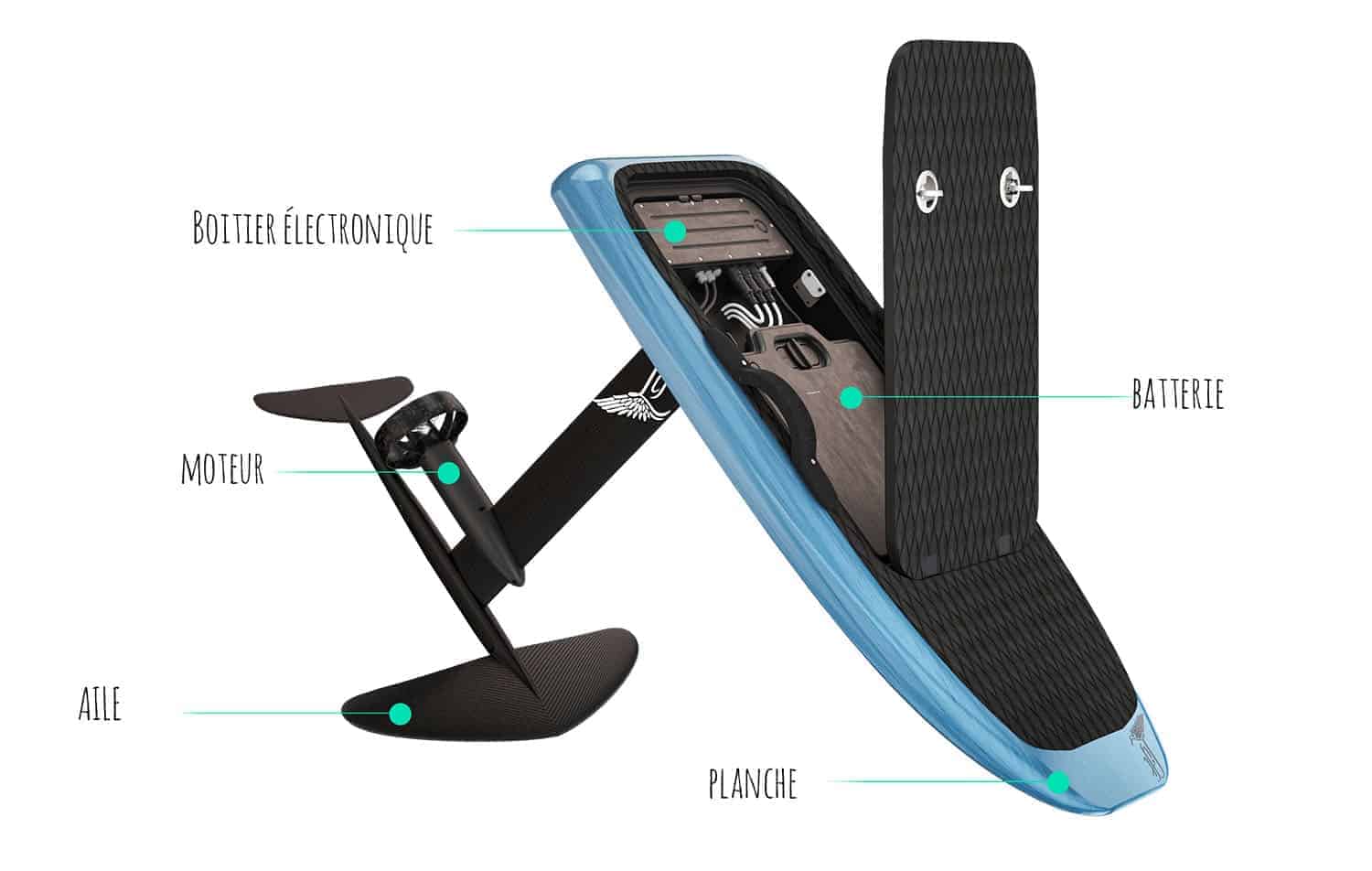 The 2021 version of the electric foil, by LIFT.
As a passionate and in order to offer only the best to our customers, we have chosen to affiliate with the high-end brand Lift Foil.
Lift has been the benchmark brand in the construction of foils for several decades, especially for surfboards. In just over a decade, Lift has created the first electric foil and thus revolutionized the world of boating.
In 2021, Lift developed a new electric foil that is even faster, lighter and more manoeuvrable. The design of flawless quality, the irreproachable after-sales service, have led us to be the brand's French reseller and thus to be a partner of the best electric foil manufacturer in the world.
The LIFT 2 was already the most efficient electric foil on the market. The brand still managed to develop an even more powerful eFoil entirely in carbon with version 3, offering to sail up to 55km / h!
This technological feat is accompanied by an even more efficient latest generation lithium-ion battery, offering 2 hours of guaranteed autonomy, as well as reliability and optimum safety. This last point, however essential, is one of the competitive advantages that Lift has been able to develop over its competitors: quality equipment offering optimum safety.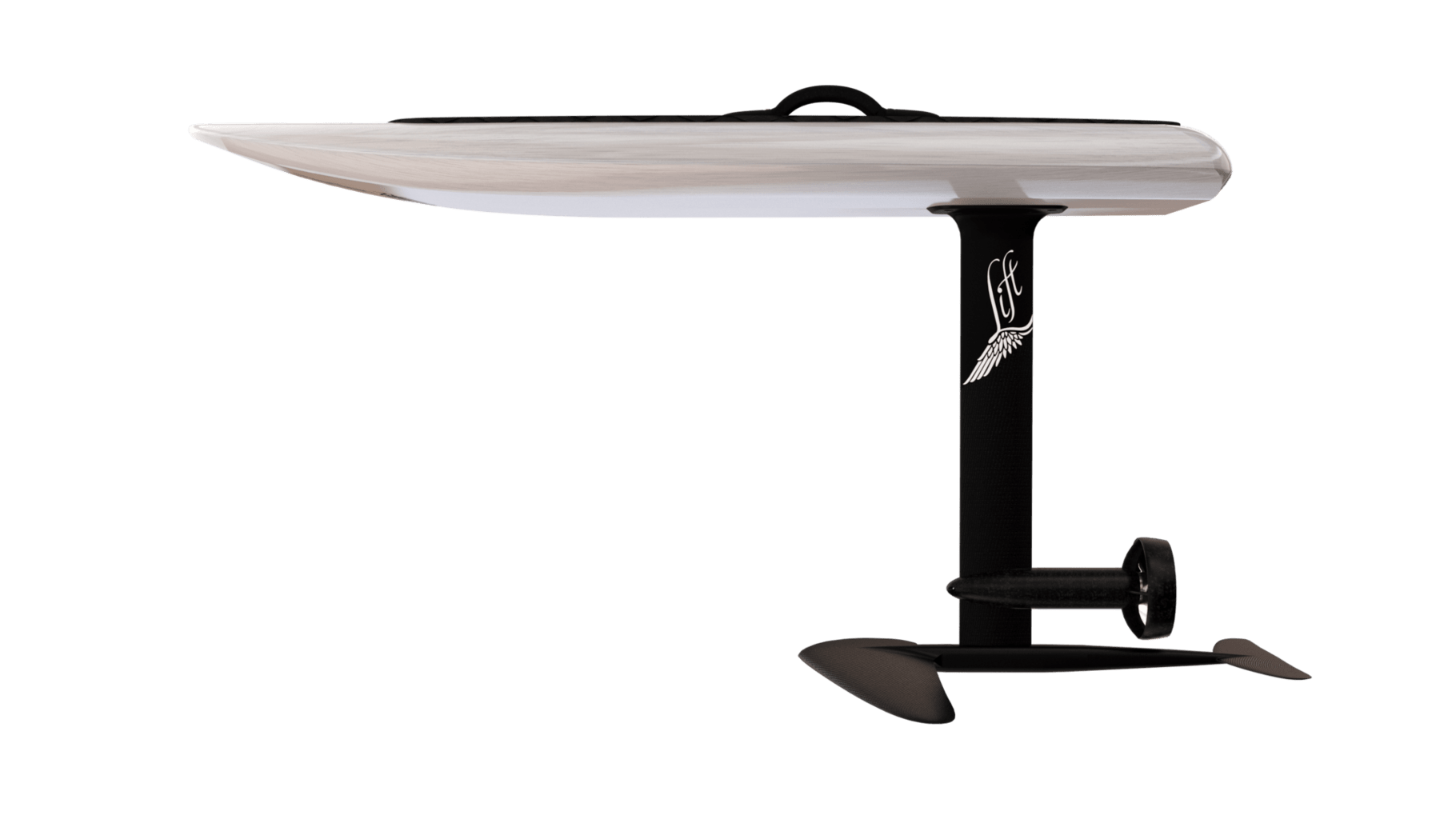 The new propulsion of the LIFT foil
The new engine design has made it possible to obtain an engine requiring no maintenance, even quieter and relatively more powerful since it allows you to fly at 55km / h, ( 20km / h more than the competitors ! )! It is even designed to fly 2 people at the same time on the board.
An electric surfboard with ever more efficient foils.
From the elice to its protection by thinking through the overall aerodynamics of the wings and the thruster, everything has been redesigned to reduce noise, water resistance while gaining stability. As a result, the Lift 3 is completely silent, even more stable, for a flight experience that allows even more freedom!
Materials and a unique process
The eFoils Lift are made of latest generation carbon, with state-of-the-art tooling to forge carbon fiber parts at extreme temperatures.
Lift is inspired by the same Formula 1 manufacturing processes for the design of these Foils, and is proud to be the only eFoil manufacturer to use these advanced technologies.
The results ? The lightest and most resistant carbon on the market, allowing an incomparable lightness and resistance.
It must be said, the Foils Lift are jewels of technology, incredibly beautiful.
To each his own way of flying.
Lift, expert in the design of foils with and without motor for more than a decade.
Lift wishes to diversify the sensations by offering users different shapes of wings to experience different piloting sensations. Thus each wing allows a wide range of options in terms of handling, stability and performance.
9 front fender options and 4 rear fender options are available, giving eFoil owners an optimal choice of options and customizations.
Order your electric foil now!
Swipe before you buy
We offer you a free trial before purchase
Benefit from our expertise
We advise you in the choice of your eFoil and its accessories
Buy with confidence
Our products are stored in Cannes and delivered very quickly
Get started in the best conditions
We will assist you for the first start-up of your eFoil
Ask for more information now!
Book your LIFT 3 electric hydrofoil today! Request for a price

As customs and import charges are unstable, the prices presented by Lift Puerto Rico are so-called "fluctuating" prices.
To obtain a final delivered estimate (without additional import costs to be paid on delivery), please complete the fields below.
Come and try our electric foils, or receive them by Fedex